"The appointment of Joel Friedman to the Rockland Legislature increases the Democrats' voting majority on the governing board by another vote. Friedman, a Chestnut Ridge resident, succeeds Republican John McGowan, who won election to the New York State Assembly in November.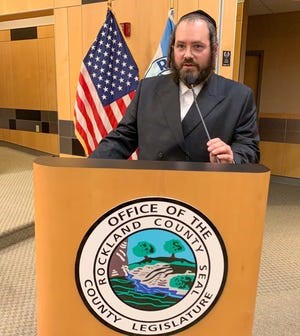 Joel Friedman appointed to the Rockland Legislature
Legislature redistricting: Lawsuit challenges Rockland voting districts, claims plan benefits officials, bloc vote
Friedman's appointment gives the Democrats a 10-7 voting majority until the November elections. The Democrats, however, remain two votes shy of the 12 needed to solely override a county executive veto of any legislation, such as budget decisions.
The Democrats made the appointment on Jan. 19 based on their voting majority of 9-8. Friedman was named on a party-line vote of 9-5, with two Republicans, Laurie Santulli and Vincent Tyer, absent and McGowan's seat open.
Legislature District 15 covers parts of Chestnut Ridge, Pearl River, and Nanuet.
But under the county redistricting plan taking effect on Jan. 1, 2024, the district will entirely encompass Ramapo, including all of Chestnut Ridge and most of Airmont. Both villages have strong Orthodox Jewish voting bases. Friedman became the second Hasidic Jewish resident serving on the Legislature.
The redistricting plan – approved by the Legislature and signed by County Executive Ed Day – is being challenged in the New York State Supreme Court by Ramapo resident Michael Parietti, a leader of the Preserve Ramapo political movement.
Parietti, who has lost bids for office, claims the redistricting favors the Orthodox Jewish community, disenfranchises areas with people of color and several communities, and is designed to re-elect incumbents.
The county is seeking dismissal of Parietti's legal action, which is pending before Judge Sherri Eisenpress. Two other Rockland-based judges recused themselves from the case."
Read the complete Journal News coverage here.